Introduction
We've read about it in the papers, we have seen it on T.V., or on Youtube and we may even have heard friends talking about it personally. Some of us may even have used it. 3D printing is an amazing technology for taking your ideas and imagination to real world objects.
Even though some of the media hype has now died off, 3D printing is here to stay and is silently revolutionizing the way we manufacture and consume goods. Now engineers and scientists are trying to figure out how to apply 3D printing to exciting new applications.

We are an international group of engineers and scientists from a variety of backgrounds. Our hope is to take the green revolution to the next step by giving you the power to 3D print your own motors and generators. But that is just the tip of the iceberg. Imagine being able to print using conductive, magnetic and insulating high temperature materials – this could include glass, ceramics and even novel materials such as nano-materials and superconductors. To do this we are developing a new kind of 3D printing process involving electromagnetic sintering.
Crowdfunding Campaign in Indiegogo
We have launched a crowdfunding campaign in Indiegogo to raise enough funds to develop our 3D printing project!
We have designed a number of perks that will ensure that you get a good value to your investment, apart from the nice feeling that you are helping to develop something that will lead us to a more sustainable future:
Join our Sinterbot Community to ensure that you are up to date with the progress of our project while learning fascinating things about 3D printing. Not to mention that we will acknowledge your support at our community page and future video work we do!
Get a Sinterbot Keychain and hold proudly a symbol of your support to this amazing new scientific endeavour!
With the Sinterbot limited edition T-Shirt, you will be able to show off you support for science!
The Microwave Experimenter Book will show what crazy, weird and wonderful things you could do with a microwave at home!
Get an Online 3D Printing Lesson, and let our expert show you for 2 hours the magics of 3D printing and go through all the steps to 3D print a desktop object!
With the perk Professional Video Request, you will sponsor a video that will cover the 3D printing topic you have been aching to find out about for ages!
Who Are We?
We have started a project called Sinterbot. Sinterbot was born in Edinburgh, Scotland, where we found some fascinating results in during our PhDs that could revolutionize the 3D printing industry. A potentially disruptive idea! An international team of scientists was forged, bringing not only a portfolio of successfully developed projects but also a broad set of engineering, management, commercial and soft skills required to successfully take this idea to reality!

We also started discussing this fascinating idea with multiple UK and international universities, finding synergies and exploring ways to collaborate, and we strengthened ties with key industry partners to better understand their needs and requirements.
Goal 1: Printing High Temperature Materials
Currently plastics remain the most common material used with 3D printers. For a price, it's also possible to print certain kinds of metal parts, but these metal prints are expensive. Moreover, understanding how the 3D printing process may change their properties still remains a significant challenge!
Plus, most finished products require a combination of materials such as ceramics, glass and more. Such materials are still a major challenge printing. What if you could print these high temperature materials? How would it change the world? What would you do with such a technique?

Our project will try to develop a kind of general purpose 3D printing technology based on electromagnetic sintering. We want to refine a technique that can be used to print high temperature materials such as glass, ceramics and even other novel materials such as superconductors.
Goal 2: Electrical Machines, Generators & Motors
We are passionate about renewable power generation. Especially now with the high risk of climate change at our doorstep, we need solutions that can reduce our carbon footprint and we need to build infrastructure that can help us achieve a low carbon future.

Therefore, as our primary application, our project wants to answer the following questions: Can electrical machines such as motors and generators be 3D printed using our process? And, if so, how good are these printed machines and materials for real world applications? In a few words… We want to produce a 3D printing process and related materials to produce electrical machines! Machines like the one you see below.

The production of these machines is challenging. Not least because such motors and generators are composed of conductive, magnetic and insulating materials that require specific control of their structural properties to be efficient. We need your help to understand whether our approach can achieve this result.

The risk is high, but the payoffs are big. We might have the possibility of printing out not only generators and motors but more basic components from inductors to transformers as well.

Goal 3: Video Production
This project firmly lies in the realm of research. But we don't want you to go empty handed. We have decided to dedicate a portion of our time to documenting our research and showing you the exciting world of research and a chance to discover the good and the challenges of how scientific research unfolds.

We want to be complete transparent, however video production requires a huge amount of time and commitment on its own. None of us are professional video producers. And we want to focus as much effort and expertise on the engineering and science. We will try our best to show you real research in action though!
Technology Impact
If you are technically minded, you are probably wondering how being able to print motors and generators can help with sustainable development and climate action. And further, you might be wondering what advantage there is to having a 3D printing process for electrical machines?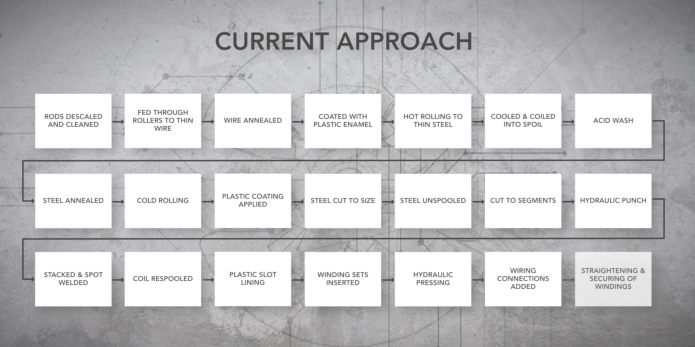 The current approach to manufacturing electrical machines is long and complicated. It requires extensive logistics support and multiple levels of industry. None of this is particularly environmentally friendly nor is it particular efficient when trying to produce small quantities of unique machines for unique applications. Just look at the complexity of the current manufacturing chain in the diagram above. We propose to simplify this chain as shown below.

There are advantages to our approach
Our 3D printing process could not only change how the supply chain works now for companies, but also at the global scale! Imagine if final products were manufactured locally. It could hugely decrease the carbon emissions associated with long-distance shipping!
Do you want more? Imagine how fast new technologies can progress from research to commercialization if we can easily 3D print prototypes! Right now just producing a single small prototype machine can cost up to a thousand pounds.
And … our process is only powered by electricity, so that means no fossil fuels are needed to manufacture electrical machines… This means that we could be powered by carbon free electricity generated from renewable sources!
Our Technical Approach
Now looking further at the technical aspects of what our project involves. We have a very ambitious route ahead of us that involves work on soft matter research, fused deposition modelling and extrusion research, powdered and clay metallurgy, electromagnetic physics and CNC data processing and slicing related computation. Wherever possible we will use open source tools and will make our own work available open source. Our goal is to make this approach available to you, the public, as soon as possible.
Below is a block diagram of roughly the range of research that has to take place. Your contributions will get us part of the way, but not all the way to the end result.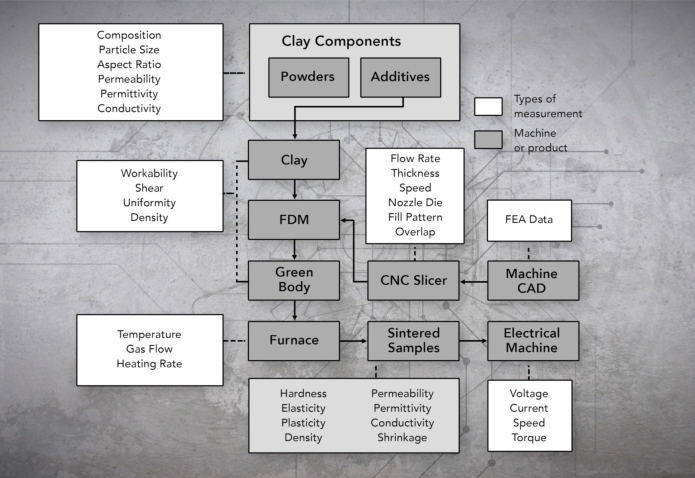 Are There Any Challenges?
Of course, we know this is not an easy job… The main challenge that we face is that we're bringing together work on different scientific fields such as electromagnetic materials, extrusion techniques, electromagnetic sintering and electrical machines.

How are we tackling this? Well, we can separate the different activities in the process from each other, that is, if a novel technique does not give us a useable output, we substitute it with a more established technique!
We haven't forgotten health & safety related challenges… But these will be mitigated by following procedures for risk assessment and safety training!
And perhaps the most important… We keep in mind the commercial challenges involved with innovative projects, but we've already started searching and approaching clients and investors, and we will produce more video media to continue spreading the word!
Before you go…
We want to thank you for having reached this point and we hope that you find our project as interesting as we do!
We really encourage you to support us on this great adventure towards the development of a new 3D printing process! However, we understand that sometimes it might not be possible to fund us, and that is okay! We would be very grateful if you could share this campaign with anyone that you think would be interested in what we're doing!
Sinterbot: 3D Print Motors and Generators